Instagram, #Bookstagram and The Making of Gabriel Davenport
Hi All! 
Wow. Its been so long since I updated this blog. Thanks so much to all of you who are checking back here and reading this!!!
I want to talk a little about Instagram and why you should be on there today and also I'm going to review a book written by an active member of the community known as #Bookstagram.
So, why should you use Instagram? The answer to that depends on who you are and what you want out of it. But in its most basic form, you will find some great photo's and some inspiring stories. But it gets much more fun as you delve deeper into it. If you have an interest you are passionate about, the likelyhood is that so do other people, and at least some of them will be posting on IG. So you may see something to do with your interest that you weren't aware even existed, or you may see some photo's that inspire you to take your interest further, or you may just find some more people who like what you do and are more than happy to welcome you into their online circle of friends. And that the thing about Instagram, on the whole, it's a more friendly. welcoming and non judgemental place than some of the other Social Media platforms. Now please bear in mind that I am talking from my own experience here. 
So now you're on IG. If you are a book nerd like me, and if you're looking at our Stephen King inspired shirts I'm guessing that you are, then you're in for a treat.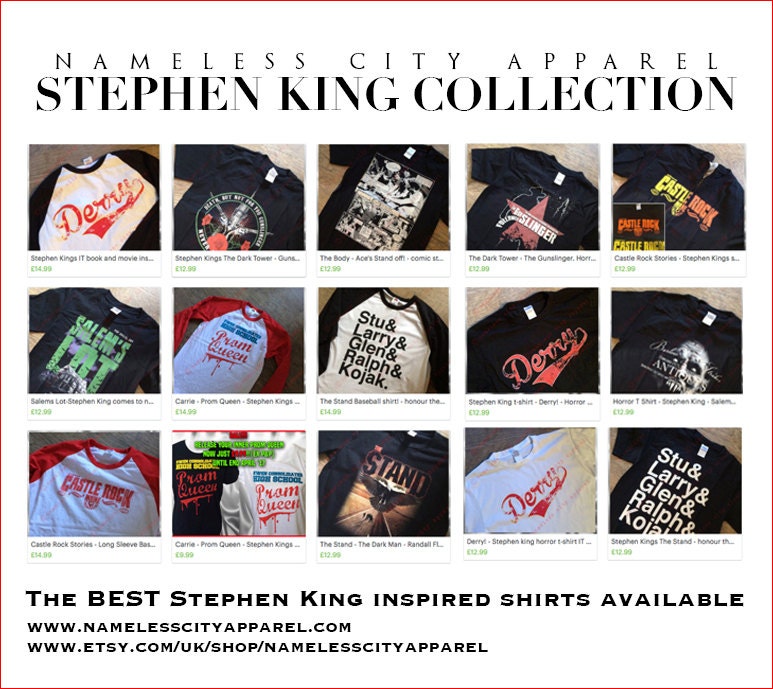 Our stephen king shirts which can be found here
Within the larger IG membership are smaller communities which can often be found using hashtags. Search IG for #Bookstagram then sit back and rejoice at what you see. 
I stumbled across this community almost a year ago through contact with a wonderful person called Leah, her IG account is @kingandcoffee There you go, thats your first amazing person to follow. Through her, I quickly met Jo @Jobis89 , Sadie @Sadie_reads_them_all , Jess @Jessicamap ,Dan @Danjones2112 and loads of others. Follow those guys and you will quickly see more and more people who regularly post and are very active in the community. And the best part? Every single one of these people will welcome you with open arms. They will help you with any questions you have wherever they can, they will involve you in the group and respond to your comments on their feeds, and they will remind you that there are some incredible people out there. If you want to follow us, we are at @nameless_city_apparel 
One of the great things that happens in the Bookstagram community are the monthly "challenges". These are a set of prompts, one for each day, that you interpret and post a picture that fits, they are really good fun and a great way to get into the swing of the community. Start with #circleofbookishfriends which is hosted by Sadie, and #grimdragon hosted by @the_infinite_book_dragon Holly and @grimdark_dad Corey ,then try the #NRBchallenge hosted by @the.nocturnal.readers.box  And there are others. Jo and @ab_reads Abbie host a Stephen King based challenge on a regular basis. 
Oh and if you like the chance to win free stuff, there is generally a Giveaway happening from someone, and most of them are international. We are as active on that front as we can be, so you will periodically get the chance to win some free Nameless City Apparel gear.
OK so now I've sold you, I have sold you haven't I? There are also authors on that community. James Fahy is an active member, @jamesfahyauthor as is Beverley Lee @theconstantvoice and it's one of Bev's books I want to talk about now.
The Making of Gabriel Davenport
I'm notoriously bad at this, but I want to try to review this book without giving away any spoilers. so if I seem vague, please bear with me. Honestly, its better that you go into this book blind. Trust me. Don't read any of the blurb and certainly don't read any of the sequel's blurb as that will spoil the surprise ending of this book. Is "blurb" a recognised word for the plot summary found on the inside covers or backs of books? ah well, I digress.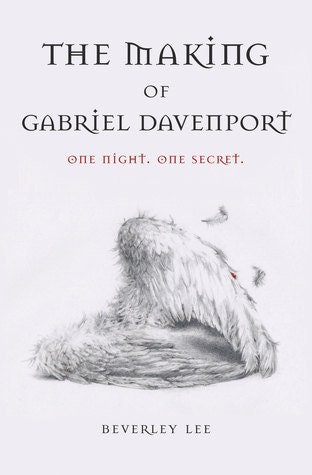 So this book covers Gabriel's early life and serves to introduce some characters that I guess we will see in the following books of the series, and yes, it is a series so we have more to look forward to. 
The opening passages are incredibly atmospheric, I know (hope) Bev won't mind the comparison, but it strongly reminded me of early James Herbert in the atmosphere. If you liked the spooky sense of dread that came with The Survivor, you will love this. 
The writing is very easy to get into. I can sometimes find it hard to allow a book to "pull me in", to achieve that suspension of disbelief that most horror fiction requires, but this one did it easily. I just categorised this book as Horror, but that doesn't mean its going to be laced with gore and viscera. In fact there is very little nastiness in this book. Sure, there are some shocking scenes, or maybe powerful is a better word than shocking, but in the main this book trades on atmosphere rather than blood and guts.
One of the things that Bev accomplishes well is the treatment of the subject matter. It is a well trodden path, lets not beat about the bush here, but the direction taken by the novel is still fresh enough to be interesting. I'll get this out in the open now, I'm a sceptic. I don't believe in the paranormal, ghosts, ghouls, vampires, spirits, tarot, astrology, UFO's, monsters (other than the human kind), demons or any of that other fun stuff. Yet I still enjoyed this book very much, this is a testament to the writing which creates a world where at least some of these things do exist, and even a cynic like me can believe in that world whilst reading the book. It never feels silly. It never overdoes it.
So my recommendation? read this book. Its a fairly quick read, Its a fun ride, it's very well written,  the characters are interesting and well drawn whilst still leaving some room to grow and develop as the series continues. The only caveat I have is that is a book for after dark. Read this when night has gathered. You don't want the sun intruding, now do you?
5 stars all the way. I cant wait to get my hands on the follow up.
Im going to try to keep this blog more up to date from now on, honestly!! I hope we will see you all on Instagram soon.
Now, whilst you're here, can I interest you in a t-shirt or two?
https://www.namelesscityapparel.com/
Cheers
Mike
Nameless City Apparel